CEO comment
Our company has overcome a lot of difficulties and we are patronized by all of our customers as a representative Japanese automobile and mechanical parts manufacturer. We would like to express our sincere gratitude for the warm support of all of you.
Currently, the environment surrounding companies is severe, however we are promoting technological development and rationalization in order to cope with this situation, and constantly seeking "What is the challenge for tomorrow ..." We have continued to make constant efforts and training.
We are aiming to make a company trusted by everyone and contribute to society.
We would appreciate your continuous support.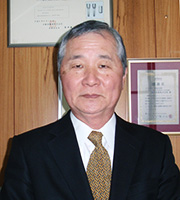 CEO Shigehiro Horii
Company name
SEKIGUCHI SANGYO CO., LTD
Address
1955 Shimogarako Higashimatsuyama city Saitama prf
Tel +81 493 23 6111
Fax +81 493 23 6693
CEO
Shigehiro Horii
Establishment of a company
Aug,1937
Capital
¥18 million
Employees
75
Site area
Site area 7,100 ㎡
Factory 3,000 ㎡
Contents of a business
Cold forging/Precision machining
Banks
Japan Finance Corporation (JFC)
Musashino Bank, Ltd
Saitama Resona Bank, Limited
Customers
UD Trucks Corporation
Hitachi Automotive Systems, Ltd
KYB Corporation
Bosch Corporation
Knorr-Bremse Commercial Vehicles System Japan
Sumitomo Heavy Industries, Ltd
Neturen Co.,Ltd
Saito Byora
Tokyo Byokane Co.,Ltd
ETO Co., Ltd
Technical tie-up
WTK Automobile Parts Co., Ltd
Address : No.2, JinYang Road, Wuhan Yangluo Economic Development Zone, WuHan City, HuBei Province, P.R.China
Contents of a business : Cold forging/Precision machining
Aug, 1937
The founder Kosaku Sekiguchi started the business as "Sekiguchi Orimono Kogyo" in Higashi matsuyama, Saitama.
Apr,1960
Changed from the textile factory to auto parts factory and "Sekiguchi Sangyo" was founded
Sep,1964
Capital increase ¥2.5 million
Apr,1968
Capital increase ¥5 million
Jun,1969
Capital increase ¥10 million
Aug, 1970
Capital increase ¥18 million
Oct,1971
Renamed SEKIGUCHISANGYO Co., LTD
Sep,1980
Added 660 square meters factory for demand expansion
Apr,1982
Added 300 square meters factory for Introduction of plastic forming
Installed 3 presses of 800 ton, 630 ton and 150 ton. Bright annealing furnace and shot blast
Introduced Bonderite treatment facility and the press line was completed
Jun,1988
Added 300 square meters press factory
Oct,1990
Installed hydraulic transfer for cold forging, 600 ton press transfer, 400 ton press, 250 press
Mar,1996
Won the Technology Development Excellence Award by Automotive Equipment Co., Ltd
Apr,2000
Acquired ISO 9001 certification
Jan,2004
Installed Transfer for cold forging 630 ton press
Apr,2005
Installed Transfer for cold forging 400 ton press
Aug,2007
Added a 250 square machining factory
Nov,2007
Acquired ISO 14001 certification
Oct,2011
Was elected "Sainokuni "factory by Saitama prf
Apr,2014
Was awarded as prime customer by Hitachi Automotive Systems, Ltd
Dec,2014
Installed transfer for cold forging 800 ton Double acting servo press
Mar,2015
Made a technical partnership with Wuhan City Railway Research Automobile Parts Co., Ltd
Access
15 minutes on foot from south exit of Tsukinowa Station.(Tobu Tojo Line)
5 minutes by car from Higashimatsuyama IC.(KAN-ETSU Exp. Way)
SEKIGUCHI SANGYO CO., LTD
Headquarter:
1955 Shimogarako Higashimatsuyama city, Saitama, Japan